SOLVING RADICAL EQUATIONS

MARCH 14, 2006

SOLVING RADICAL EQUATIONS
-
a radical equation is where the variable (x) is under a root or part of a radical expression.

Here are some examples:
[ I wish I could have made the images bigger so you guys can easily see. ]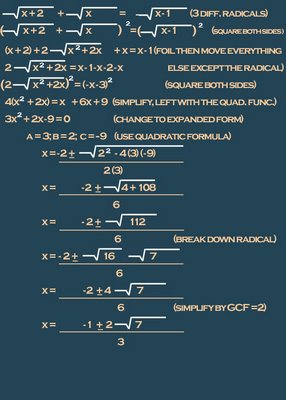 ++ sorry for the delay.. computer froze many times.. haha. also, i want everything to be clear. that s why i cant just say "square root of" or "to the power of". anyway. homework is Exercise 18.
++ for all those Coin Hunt people, for clue set number 3, first question, mr. k said he's gonna reclarify that question.
++ KENNY is the next scribe!